Beckie Wood
Speech-Language Pathologist, SLP, Owner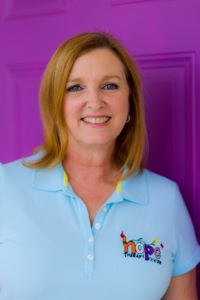 The day Michelle and I opened for business in 2009 is one I will never forget. Life takes us places we can't imagine but here I am living the dream of having a therapy center for children with hearing loss.
My journey started on the grounds of Southwest Texas State University where I graduated with a Bachelor's of Science degree in Communication Disorders in 1979. A year later, I earned my Master's of Education degree in the same field. I was on a fast track to somewhere.
After working for 10 years at the Regional Day School for the Deaf in McAllen, I began to imagine a center specifically for children and families who were faced with the challenges that hearing loss brings. It would be a center where they could receive individual and specialized attention.
When the time was right I knew it was Michelle I wanted to work with; knowing that opening a center would not be an easy task.  With 34 years experience as a speech-language pathologist and countless experiences with pediatric hearing loss I was ready to make the dream of a center a reality.
So here we are, proud owners of Hope Therapy Center. Michelle and I are both members of the American Cochlear Implant Alliance, serve on the local chapter of the Early Hearing Detection and Intervention Committee, and the Rio Grande Valley Cochlear Implant Team.
We have a dedicated, knowledgeable and kind staff. I hope you will take the opportunity to get to know us and share your journey with us as members of the "Hope family".