Kimberly Bradley
Speech-Language Pathology Assistant, SLPA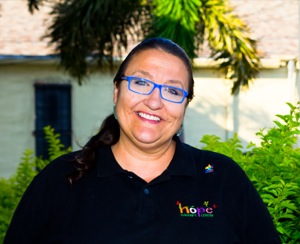 Jessica Rios contacted me 4 years ago to come on board at Hope Therapy Center. I had already worked with the special needs population for over 15 years, so I was thrilled. To this day, I consider it a blessing to work with some of the most beautiful children I have ever seen.
As a graduate of the Texas Tech University Health Sciences Center, I bring an a very diversified skill set to Hope. I am an experienced speech-language pathologist assistant, special education teacher and in-home trainer for children diagnosed with Autism. I also serve as a board member for 2 local organizations that service the needs of the RGV children.
Hope is in the communication and confidence building business. The world can be a very frustrating, lonely and quiet place for children with hearing loss, and we're here to change that.
One day a little 4-year old patient of mine requested a pretend doctor's kit while playing with my Pet Partner therapy dog, Gracie. Once in her hands, she proceeded to gently examine Gracie's ears with an otoscope and discuss "her findings".
What a revelation that was. She was reenacting the same scenario she so often has experienced during her short little life. Maybe she'll become a veterinarian, medical doctor or audiologist some day.