Michelle Treviño
Social Worker, Owner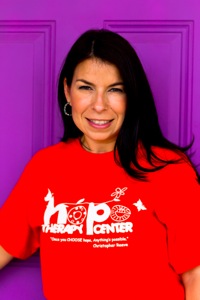 Beckie and I decided that the Rio Grande Valley's deaf community needed a place where families and children affected by hearing loss could receive care, support, education and, most importantly, hope – hope that their child would soon discover the power of communication.
A dream was born. It was a dream that required our undivided attention and months of hard work. You know the saying that goes "hard work pays off"? Well, it does. Proof was in the birth of Hope Therapy Center.
I graduated from the University of Texas-Pan American with a Bachelor's degree in Social Work with a concentration in psychological disorders and counseling. During my studies, I learned the value of human interaction and developed a compassion for families and children in need of help.
Our partnership blossomed from the combined empathy we had and still have for parents who desire for their child to communicate, interact and create meaningful relationships with others. I believe in miracles. They materialize each and every time I hear a cochlear implant patient speak his or her first word. It is a beautiful thing to witness.
I cherish each memory of parents supporting one another and crying tears of hope each time they realize just how well their child is progressing in therapy. Moments like those only strengthen my commitment to Hope. My dedication is a driving force that stems from the love and appreciation that I have for our patients, their parents and my co-workers.
We welcome you to join the Hope Family.