Rebecca Garza
Speech-Language Pathology Assistant, SLPA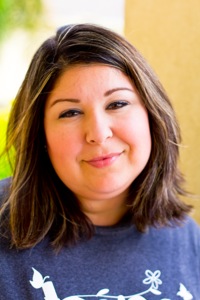 I feel very blessed to have worked at Hope since 2010. It truly is a blessing and very rewarding for me to work with these wonderful children.  It is an amazing learning experience for me to witness their daily growth.  There are always new things to learn, so every day is a learning experience for all of us here. I have learned so much from my supervisor and fellow colleagues who have helped me grow as a therapist.
I graduated from Texas A&M University Kingsville in May 2010 with a Bachelor's of Science degree in Communication Disorders. I am proficient in Spanish, American Sign Language (ASL) and Signing Exact English (SEE), with continuing education hours in auditory verbal therapy techniques and cochlear implant trainings.  My continuing education trainings have helped to increase my knowledge of pediatric hearing loss.
My favorite memory at Hope Therapy Center was right before I began to work at the center.  My supervisor, Beckie Wood, asked me to observe one of her therapy sessions so that I could become familiar with the population I would be serving. It was my first time around a cochlear implant patient and when I was introduced to her and heard her speak I became overwhelmed with emotion. I couldn't help but get all choked up in amazement because I felt that the cochlear implant truly is a miracle. I love working here and I am very proud to be a part of the Hope team.